Wedding Guest Box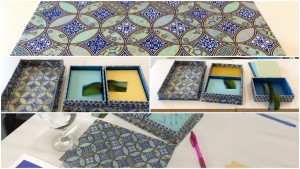 Last year I designed and made a different type of wedding guest book for a friend. Instead of a book, a box.
I see a long line at the wedding book and, in general, people only sign their name. They also fill the front of the book and leave a lot of blank pages at the end.
So my idea was to fill a box with simple white cards. Each guest could take one and add a note or comment without feeling like they were holding up the line. The box holds all the notes and becomes a decorative keepsake after the wedding.
I let the couple choose the main paper. The images above are from my first effort. The ones below come from the one that I made this winter.